RS PRO Butt Wire Splice Connector, Red, Insulated 22 → 16 AWG
RS-artikelnummer:

267-3997

Tillverkare / varumärke:

Se alla Splice Connectors
---
42800 I lager för avsändande samma dag
Pris (ex. moms) Each (In a Pack of 100)
Enheter
Per unit
Per Pack*
100 - 400
1,776 kr
177,60 kr
500 - 2400
1,663 kr
166,30 kr
2500 - 4900
1,534 kr
153,40 kr
5000 - 9900
1,399 kr
139,90 kr
10000 +
1,332 kr
133,20 kr
RS-artikelnummer:

267-3997

Tillverkare / varumärke:
COO (Country of Origin):

TW
Lagstiftning och ursprungsland
COO (Country of Origin):

TW
---
Produktdetaljer
RS Pro Insulated Window Butt Splice
From RS PRO, a selection of insulated ferrules or Butt Connectors designed for crimping electrical wires. The tube-shaped terminals act as a solderless cable joint allowing electrical current to flow safely from one wire to another. Professionally designed using high-quality materials, RS PRO's range of butt splice terminals are used to repair, change or lengthen electrical circuits.

The RS PRO range of insulated crimp butt splice terminals are easy to terminate, once the wire has been stripped simply guide the wires into each end of the copper tube and crimp using a suitable tool. The compression style electrical connection provides good tensile strength while maintaining maximum contact with the wire. Constructed from high-grade copper with a colour coded vinyl or nylon insulation, the RS PRO series of butt splice terminals are an essential addition to any electrician's tool kit.
Special Feature - Viewing Wiindow
This range of RS PRO insulated crimp terminals have a window or sight-hole in the centre of the ferrule body. This special feature provides the user a clear visual indication that a successful crimp has been made.
Colour Coding
The insulated terminals or connectors sleeve is colour coded for easy wire size identification. The colours of the connectors relate to a wire range the terminal can accept. The sizes can be quoted in either CSA (cross-sectional area) or AWG (American Wire Gauge)
• Red 0.5 - 1.0 mm² or 22-18AWG
• Blue 1.5 - 2.5 mm² or 16-14AWG
• Yellow 2.5 - 6.5 mm² or12-10AWG
Features and Benefits
• Viewing window / sight-hole for good crimp identification
• Tin plated copper tube
• Wide temperature range -20° C to + 105°C
• High-grade Nylon insulating material
• Colour coded for easy wire size identification
• Easy to crimp using a ratchet tool.
• Durable and reliable termination
• Extremely cost effective
Applications
Insulated terminals have been around for many years, they originated from the need for a solderless method to terminate wiring in military equipment. Butt splice crimps are used in a wide range of industrial, commercial and domestic applications. They can be found almost anywhere where an electrical connection is required. Some of the most common are
• Industrial control systems
• Automotive and transportation sector
• Machine building
• Electrical and electronic equipment
• Commercial and domestic appliances
FAQ
Q
- Are there any recommended tooling for crimping the butt connectors?
A
– Any good quality ratchet style crimp tool or plier tool designed for butt terminals would suffice. RS PRO offers a range of reliable, cost-effective tools. See typical part number
267-3133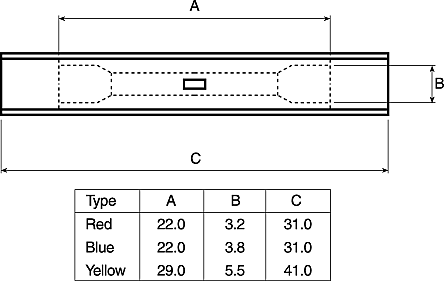 ---
Specifikationer
| | |
| --- | --- |
| Attribute | Value |
| Splice Type | Butt |
| Minimum Wire Size mm² | 0.5mm² |
| Wire Size | 22 → 16 AWG |
| Overall Length | 31mm |
| Maximum Wire Size mm² | 1.5mm² |
| Diameter | 4mm |
| Minimum Wire Size AWG | 22AWG |
| Maximum Wire Size AWG | 16AWG |
| Insulation | Insulated |
| Colour | Red |
| Insulation Material | Nylon |
| Contact Material | Copper |