Midas White Passive matrix OLED Display COB Parallel Interface
RS-artikelnummer:

814-3039

Tillv. art.nr:

MCOB22005A1V-EWP

Tillverkare / varumärke: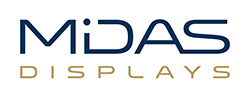 Se alla OLED Displays
---
28 I lager för avsändande samma dag
| | |
| --- | --- |
| Enheter | Per unit |
| 1 - 4 | 347,89 kr |
| 5 - 9 | 323,28 kr |
| 10 + | 315,18 kr |
RS-artikelnummer:

814-3039

Tillv. art.nr:

MCOB22005A1V-EWP

Tillverkare / varumärke:
Lagstiftning och ursprungsland
---
Produktdetaljer
Midas Character OLED Displays, COB
This series of Organic Light Emitting Displays (OLEDs), from Midas Displays, are chip-on-board (COB) character format OLEDs with passive technology. These easy-to-use OLED devices are made up of a PCB mounted with both the driver and the display. As an ideal, drop-in replacement for standard LCD character modules, the Midas COB OLEDs have a comparable footprint to LCD character display common board sizes. With their high brightness, high contrast and fast refresh levels, the graphic COB OLED displays are a seamless upgrade from standard LCD modules. The Midas OLEDs are available in a range of colour options including yellow, green, blue red and white, and are ideal for applications where a specific colour of display is required on a black background appearance (negative mode).

The Midas character COB OLEDs also boast an extremely wide viewing angle of up to 175°, creating a solution for applications where it is necessary for the display to be readable from all angles. These OLED devices also offer lower energy consumption than traditional LCD modules and a wide operating temperature range. Their low profile display height and interface comparable with HD44780 means the Midas COB OLEDs are suitable for a variety of traditional applications. Available in 8 to 40 character options on 2 lines, Midas' OLED displays offer 4 font sets on 1 device including English, Japanese, Western European and Cyrillic character fonts. The Midas COB OLED devices have a 5x8 dot matrix characters with a height of 5.50 to 5.57mm.

OLED Operating Lifetimes:
(Ta = 25° / Initial 50% checkboard brightness 40nits)
Yellow: 100,000 hours
Green: 100,000 hours
Red: 100,000 hours
Blue: 50,000 hours
White: 50,000 hours


Midas Character PMOLED Displays
---
Specifikationer
| | |
| --- | --- |
| Attribute | Value |
| Viewing Area Dimensions | 85 x 18.6mm |
| Matrix Type | Passive |
| Display Colours | White |
| Contrast Ratio | 2000:1 |
| Driver Mounting | COB |
| Interface Ports | Parallel |
| Dimensions | 116 x 37 x 9.8mm |
| Depth | 37mm |
| Height | 9.8mm |
| Maximum Operating Temperature | +80°C |
| Minimum Operating Temperature | -40°C |
| Viewing Area Height | 18.6mm |
| Forward Voltage | 5 V dc |
| Operating Temperature Range | -40 → +80°C |
| Width | 116mm |
| Viewing Area Width | 85mm |