Har du provat RS PRO?
Vårt eget varumärke RS PRO erbjuder ett brett produktsortiment med kvalitet du kan lita på till priser du förväntar dig.
Utvalda produkter
Verktygssats med 83 delar. Perfekt till service och underhåll.
RS PRO-verktygssatsen med 83 delar innehåller allt som service- och underhållsteknikern förväntar sig: Tänger, skruvmejslar, skiftnycklar, precisionsverktyg, sexkantnycklar, filar och till och med en lödkolv!
Besök webbutiken

VDE-verktygssats med 88 delar
Speciellt framtagen för elinstallatörer innehåller satsen med 88 delar bl.a. skruvmejlar och tänger som är VDE-klassade upp till 1000 V.
Besök webbutiken

Mjuk verktygväska med fast botten
En praktisk axelremsväska som kan användas till att transportera utrustning och verktyg. Perfekt för resande tekniker och installatörer!
Besök webbutiken

Verktygshurts med verktyg. 213 delar.
Ett absolut måste på verkstan.
Med sina 6 utdragslådor som glider lätt på precisionsskenor är denna verktygshurts den perfekta partnern. Fullproppad med alla tänkbara kvalitetsverktyg!
Besök webbutiken

Se hur vi kvalitetstestar RS PRO-produkterna
Hos RS PRO vet vi att vår kunder ställer höga krav på kvaliteten. Med rätta.
Se hur vi testar och kvalitetsgodkänner alla handverktyg för att säkerställa att de uppfyller våra stränga krav.
Ta oss inte bara på ordet. Hör vad våra kunder säger
Se vad Core säger om RS PRO och varför de har valt att använda produkter från sortimentet med vårt eget varumärke
RS PRO Seal of Approval

RS har haft en passion för industriella produkter sedan 1937. Vi vet att alla komponenter är lika viktiga, eftersom kvaliteten på dina applikationer aldrig kommer att vara högre än kvaliteten på varje enskild del som ingår.
Det anledingen till att varje produkt testas mot krävande industristandarder innan de får kvalitetssigillet 'RS PRO Seal of Approval'.

GRANSKADE
för efterlevnad av industristandarder

SYNADE
för garanterad kvalitet och prestanda

PROVADE
av kvalificerade tekniker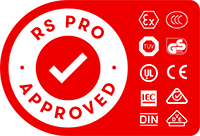 Om RS PRO

Kvalitet
Varje produkt testas mot krävande industristandarder innan de får kvalitetssigillet 'RS PRO Seal of Approval'.

Urval
Vi utökar vårt sortiment löpande för att täcka alla behov.

Värde för pengarna
Vi prissätter våra produkter konkurrenskraftigt genom att förhandla fram de bästa villkoren med våra leverantörer.