RS PRO DC Socket Rated At 2.0A, 12.0 V, PCB Mount, length 8.9mm, Nickel, Tin
RS-artikelnummer:

125-1075

Tillverkare / varumärke:

Se alla DC Power Connectors
---
550 I lager för avsändande samma dag
Pris (ex. moms) Each (In a Pack of 5)
Enheter
Per unit
Per Pack*
5 - 5
23,288 kr
116,44 kr
10 - 45
22,118 kr
110,59 kr
50 - 95
20,966 kr
104,83 kr
100 +
19,814 kr
99,07 kr
RS-artikelnummer:

125-1075

Tillverkare / varumärke:
Lagstiftning och ursprungsland
---
Produktdetaljer
RS Pro DC Dual Power Socket, Surface Mount
From RS Pro, this surface-mounted socket couples with Push Fit DC electric plugs. It is perfect for powering small appliances such as portable radios. This particular power socket accepts both 2.1 mm and 2.5 mm plugs, making it perfect for your application. All models are highly reliable and excellent quality.
• Current Rating: 2A
• Voltage Rating: 12 V dc
• Life: 5000 minimum of 5000 insertions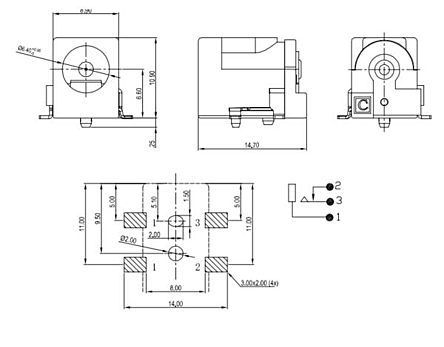 Miniature plugs suitable for powering portable radios, calculators plus test and measurement instruments from a fixed, low-voltage d.c. source. Chassis mounting sockets for the 2.1mm plugs and adaptor leads terminated with 2.1mm and 2.5mm plugs and sockets are also available. Contacts are nickel/silver plated brass. Connector bodies are moulded in ABS plastic.
---
Specifikationer
| | |
| --- | --- |
| Attribute | Value |
| DC Power Connector Type | DC Socket |
| Current Rating | 2.0A |
| Body Orientation | Straight |
| Voltage Rating | 12.0 V |
| Width | 14.5mm |
| Length | 8.9mm |
| Mounting Type | PCB Mount |
| Pin Diameter | 5.5mm |
| Contact Plating | Nickel, Tin |
| Contact Material | Brass, Phosphor Bronze |