SIEMENS IOT2020
Framtagen för att uppfylla kraven från den kommande generationen av utvecklare och ingenjörer.
Ingen tillverkarspecifik programvara krävs – välj programmeringsspråket som passar dig bäst

Kompatibilitet med de populäraste utvecklingsplattformarna, som Arduino och Raspberry Pi

Lätt att flytta befintliga Arduino- och Raspberry Pi-projekt till kommersiella tillämpningar tack vare UL/CE-godkännanden och den industriella uppbyggnaden

Lätt att kombinera med både öppen och industriell hårdvara

Klar att installeras i styrskåp eller automationspaneler

Attraktivt prisläge

Huvudtillämpningar:
Industrirobotar
IoT-tillämpningar för det intelligenta hushålle
Fjärrövervakning och -styrning
Den smarta fabriken
Upptäck IOT2020
IOT2020
är kompatibel med de flesta
Arduino-sketches
som kan överföras direkt från Arduino IDE. Många andra program kan kompileras och/eller köras under
Yocto Linux
tack vare mikrokontrollern X1000 SOC (X86).
Tredjepartshårdvara
, som exempelvis PLC-enheter och sensorer/givare, kan
anslutas via Ethernet eller seriella gränssnitt
(USB-adapter krävs) med hjälp av öppna eller industriella protokoll som Modbus, Profinet, REST och MQTT.



IOT2020 är kompatibel med Arduino shields och olika avancerade programmeringsspråk som Java, C++ och Python, eller med en rad olika utvecklingsmiljöer som inkluderar Eclipse-och Yocto Linux-kompilatorer. Den kan även utökas via den inbyggda mPCIe-porten. Node-Red, MQTT och SQLITE3 kan användas för att ansluta och styra lokal och fjärransluten kringutrustning.









Vad är SIMATIC IOT2020?
SIMATIC IOT2020 är en Industriell IoT-gateway som är avsedd att hjälpa studenter, makers och spirande utvecklare att bli
förtrogna med IIoT och flytta prototyper som utvecklats på plattformar med öppen källkod, som Arduino, Intel Galileo och Raspberry Pi till industriell miljö.
IOT2020 är inte en logisk styrenhet, den har utvecklats för att fungera som hjärnan i en IoT-tillämpning genom att samla
in data från PLC-enheter, lagringsmedier och sensorer/givare som kan befinna sig var som helst i världen. Om diskreta in- och utgångar behövs har användarna tillgång till de inbyggda Arduino-kompatibla kretskortskontakterna (hylslister) eller genom att använda något av de många Arduino shields.

Experts recommend the SIMATIC IOT2020 open industrial gateway for educational projects. View below video to find out why.
Vad innebär det att SIMATIC IOT2020 är en "industriell
hårdvara"? Vad är skillnaden jämfört med vanliga utvecklingskort som Arduino?
UL/CE-certifiering är bara en av många egenskaper som gör IOT2020 till en lämplig hårdvara för industriella tillämpningar. IOT2020 är konstruerad med ett industriklassat IP20-hölje som möjliggör säker installation i maskiner och styrskåp, med möjlighet att enkelt ansluta till andra DIN-skenmonterade industriella enheter som PLC:er, nätaggregat, reläer och växelriktarenheter.
IOT2020 är byggd med industriklassade komponenter så att den kan klara kontinuerlig drift i industriella miljöer med vibrationer, damm, höga temperaturer och elektromagnetiska störningar.
Vad gäller kommunikationsprotokoll kan IOT2020 kommunicera med annan industriell hårdvara via säkra industriella protokoll som Modbus, PROFINET och MQTT.
De populära utvecklingskorten med öppen källkod är däremot oftast inte utvecklade för kontinuerlig drift i en industriell miljö och är inte konstruerade för att enkelt kopplas ihop med andra industriella enheter.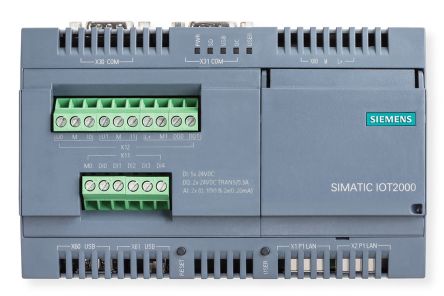 Med en Arduino-kompatibel ingångs-/utgångsmodul, speciellt framtagen för IoT2000, är det möjligt att utvidga IoT2020 med digitala och analoga in- och utgångar. Lokala sensorer kan på så sätt anslutas till IoT-gatewayen och trigga icke-kritiska processer. Modulen är konstruerad för att användas i industriella applikationer, och när den används tillsammans med IoT2020 ger det användaren en komplett lösning som uppfyller CE och UL krav. Modulen programmeras i högnivåspråk och kontrolleras via GPIO-anslutningar.
Läs mer om SIMATIC IOT2000 IO shield här






Varför behöver studenter och makers en industriklassad och certifierad hårdvara?
En industriklassad och certifierad hårdvara är obligatorisk för studenter som vill integrera sina IoT-projekt i ett befintligt industriellt system (till exempel ta fram en prototyp av ett nytt fjärrövervakningssystem för att styra en befintlig industriell robotarm). Studenter kan påbörja prototypbygget på labbordet med Arduino-kort som vanligt och sedan enkelt överföra koden – och Arduino shield-enheterna vid behov – till IOT2020 för att slutföra integreringen i ett befintligt industriellt system.
Makers och nystartade småföretag kan använda IOT2020 för att skala upp sina IoT-prototyper till kommersiella tillämpningar med hjälp av dess industriella certifieringar och genom att enkelt migrera större delen av koden, utvecklad för Arduino-baserade kort under prototypfasen, till den.
Tekniska specifikationer för IOT2020
| | |
| --- | --- |
| Processor | Intel Quark x1000 (x86 400 MHz) |
| Systemminne | 512 MB DDR3 RAM 8 MB FLASH, 256 kB SRAM |
| Realtidsklocka med batterireserv | Tilval |
| Kommunikationsgränssnitt | 1x 10/100 Ethernet RJ45 |
| Media interfaces | USB-värd och -klient |
| Expansion | mPCIe; Arduino shield-enheter; USB-anslutning |
| Inbyggt I/O | Arduino Uno-hylslister |
| Lagringsmedia | MicroSD-kort |
| Operativsystem | Arduino IDE / Yocto Linux / Intel Studio / Eclipse |
| Inbyggda funktioner | LED-indikatorer |
| Matningsspänning | 9..36 V |
| Drifttemperatur | 0 - 50°C |
| Certifikat | Industristandarder (UL, CE ...) |
| Programmeringsmiljö | Flera möjigheter för programmeringsspråk som C++ och Json |
| Industriella kommunikationsprotokoll | Modbus och Profinet |
| Montering | Montering på DIN-skena, panel eller vägg |
Köp IOT2020 och passande tillbehör
RS IOT2020-evenemanget på Maker Faire i Rom med Massimo Banzi och Siemens
Massimo Banzi, medgrundare av Arduino, sa: "Varje år på Maker Faire i Rom berättar vi hur världen förändras och i vilka nya riktningar tekniken är på väg. I år påverkas företagen av den här transformationen mer än någonsin på grund av implementeringen av det som kallas Industry 4.0. Med hjälp av Industrial Internet of Things (IIoT) kan företagen bli mer effektiva och konkurrenskraftiga och samtidigt mer hållbara. Regeringar investerar mycket pengar i planer som ska modernisera industrin. Planerna är generellt anpassade för stora företag, men i länder som Italien är det små och medelstora företag som utgör ekonomins ryggrad. De består ofta av makers som hittar mycket kreativa lösningar för att kunna skapa innovationer med snäv budget och små team. På Maker Faire ser vi många exempel på sådan uppfinningsrikedom, och det är den perfekta platsen för lanseringen av nya IOT2020 från Siemens och RS. Den här lilla datorn är byggstenen som kommer att ge studenter och ingenjörer möjlighet att implementera Industrial Internet of Things och delta i Industry 4.0-revolutionen. Utnyttjandet av kraften i programvara med öppen källkod och möjligheten till programmering i Arduino(r) IDE ger många människor möjlighet att skapa innovationer – inte bara de företag som har råd med stora team av högkvalificerade utvecklare. Siemens är den största aktören inom industriell databehandling och deras beslut att lansera IOT2020 är en tydlig signal att innovation måste demokratiseras för att vara till nytta för så många som möjligt. Jag är mycket glad att vara en del av det här projektet och jag ser fram emot att få se hur folk kommer att ändra sitt arbetssätt tack vare den nya produkten".
IOT2020-kunskapsbas i DesignSpark


DesignSpark IOT2020-kunskapsbas är rätt ställe för dig som är ute efter användargenererat värdefullt innehåll som projektexempel, kod och instruktionsvideor.
Det är hemvist för alla makers, studenter och unga ingenjörer världen över som vill utveckla omvälvande IIoT-tillämpningar med IOT2020.