Fluke Thermal Image Cameras and Thermography | RS Components
Se det omfattande sortimentet
Värmekameror från Fluke uppfyller verksamhetens standard för tålighet, tillförlitlghet och noggrannhet. Kamerorna är utvecklade för leverera detaljerade och noggranna värmebilder samtidigt som de ska kunna stå emot de hårda törnar de kan bli utsatta för i industrimiljö. Det breda sortimentet innehåller behändiga värmekameror i fickformat, avancerade modeller med pistolgrepp och pekskärm, och avancerade kamerorna för fast montering som används i forskning och utvecklilng.
Värmekamera i fickformat
Stryktålig värmekamera med induitivt användargränssnitt:

Värmekameran som du alltid kan ha med överallt. Perfekt för snabb felsökning och dokumentation. Sök snabbt av elektrisk utrustning, pumpar, motorer, tekniska installationer, klimatanläggningar och processstyrningsutrustning. Hitta varma eller kalla ställen som kan tyda på att någon slags fel håller på att utvecklas.
Kamera är utrustad med en IR-sensor i proffskvalitet, en 3,5-tums pekskärm och funktionen "IR-fusion" som gör det möjligt att överlagra värmebilder med bilder tagna med synligt ljus.
Högupplösande kameror och kameror med pistolgrepp
Förebyggande underhåll och analys
Autofokusfunktionen LaserSharp® beräknar avståndet till mätobjektet blixtsnabbt med hög noggrannhet så du kan koncentrera dig på mätresultatet. Pekskärmen på 3,5 tum har en intuitiv meny för konfigration och inställning av funktioner. Utöver standardoptiken som medföljer så kan kameran utrustas med 2x eller 4x teleobjektiv eller ett vidvinkelobjektiv.


Fluke Ti401 & Ti480 PRO Värmekamera
Fluke Ti401 PRO och Ti480 PRO är en serie tåliga värmekameror med genomtänkt konstruktion som låter användaren utföra snabb och pålitlig termisk inspektion. Bägge modeller är utrustade med en IR-sensor med 640 x 480 pixlars upplösning. Pistolgreppet gör att du kan sköta all funktion med en hand.

Ti480 PRO har några ytterligare funktioner som inte finns på Ti401 PRO: Med MultiSharp™ får du bilder med som är skapa i hela bildfältet så du inte missar några detaljer. Kameran kombinerar information från flera bilder till en samlad bild med stort skärpedjup.
Den unika SuperResolution-funktionen ger dig bilder med 4 gånger högre upplysning, det vill säga 1280 x 960 pixlar, så du kan se ännu fler detajer i bilderna.


Fluke Connect® gör det enkelt att dokumentera och dela
Med Fluke Connect® ansluter du kameran till Flukes nätverk för trådlösa test- och mätinstrument. Det gör det enkelt att arkivera bilder, andvända dem i en rapport eller dela med kollegor.

Om du vill se hur det fungerar så kan du ladda ner en gratis demo för PC eller bärbara enheter.

Klicka på ikonerna nedanför...



Fast installerade kameror i RSE-serien

Marknadens första radiometriska IR-kamera för fast installation med avancerande funktioner kan användas med MATLAB® and LabVIEW®.
Kamera kan med fördel monteras fast på en produktionslina eller labbänken för att insamla data kontinuerligt. Serien med IR-kameror som finns med 640 x 480 eller 320 x 240 pixlar upplösning är optimal för processövervakning, utveckling och forskning.
MultiSharpTM-funktionen ser till att bilden alltid är skarp i hela bildfältet, så du inte missar några detaljer.
Kamerorna kan också utrustas med tillsatsobjektiv för tele, vidvinkel och makro. Enkelt att insamla, hantera och dela de radiometriska bilderna med programvaran SmartView®.




Fluke 279 FC multimeter med värmekamera
Multimetern 279 FC med värmekamera är en fullt utrustad digital multimeter med inbyggd värmekamera som är framtagen för att göra vardagen enklare eftersom du alltid har din multimeter och värmekamera till hands. Instrumentet hjälper dig på så sätt att snabbt hitta, reparera, validera och rapportera många elfel.
Videoskop i Fluke DS701- och DS 703-serien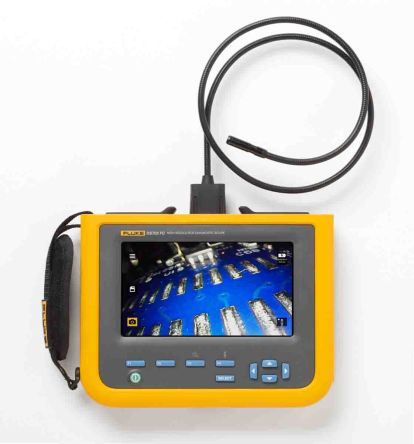 Fördelarna med att använda videoskop för att komma åt och inspektera i trånga och svåråtkomliga utrymmen är välkända. När det gäller att använda ett videoskop i hård och smutsig industrimiljö ställer det helt andra krav på utrustningen. Fluke har den perfekta lösningen:
Kameraprob med hög upplösning, som kan ta bilder rakt framifrån eller från sidan.
Inbyggd bildbehandling som ger skarpare bilder
7-tums LCD-skärm
Digital zoom - micro till makro
Automatisk justering av ljusstyrkan
Automatisk rotation av bilden så det som är överst på kamera visas överst på skärmen (gäller endast proben med 8,5 mm diameter, 1,2 m. längd)
Se artiklar om Fluke värmekameror på DesignSpark
DesignSpark is the home of our engineering community. It's an online platform which allows passionate engineers to share ideas and find resources or tools to help with their projects.